Attitudes in action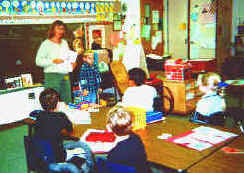 Artist unknown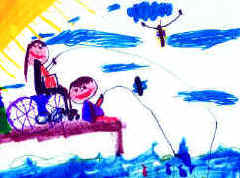 Roosevelt Elementary, April 14, 1994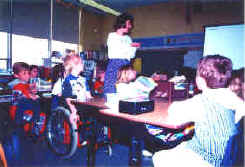 Artwork by Rochelle Barnes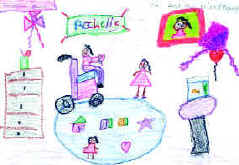 Attitudes - An Early Acceptance Program
by Lorra Tamplia
The best time in life for people to learn how to develop acceptance for individuals with disabilities is when they are very young, before they have lived long enough to acquire intolerant attitudes that have set into a hardened mold.


In a recent survey, people with disabilities overwhelmingly agreed that they felt more "handicapped" by the negative attitudes of others than by their physical impairments.

The Kenny Foundation of Southfield, Michigan offers a program that helps teachers make disability awareness education a continuing process in their classrooms.

Part of this awareness program is Attitudes, a 45-minute disability awareness presentation for first and second grade classrooms. Kenny's volunteer teachers, many who are persons with disabilities, use such teaching tools as:
| | |
| --- | --- |
| | Creative discussion and problem-solving activities. |
| | An educational video about a boy with a disability. |
| | Hands-on disability simulations with child-size wheelchairs and crutches. |
| | A drawing exercise that promotes interaction between children with and without disabilities. |
"Through this combination of learning activities, children gain a new understanding and respect for people with disabilities," says Russ Derry, Executive Director of the Kenny Foundation.
Since its inception in 1990, over 200,000 students throughout Michigan have participated in Attitudes - this means over 7,500 classrooms.
"After experiencing Attitudes, students are able to apply this new awareness to their own relationships," says Derry. "They will actually serve as role models for their friends and families. Gradually, these children will begin to change the way society relates to individuals with disabilities."
Derry explains that some of the problem-solving activities that encourage creative thought processes for the kids include coming up with ways to carry a book if a person uses crutches, figuring out ways to play various sports if a person uses a wheelchair, creating ways to rearrange the classroom to accommodate a wheelchair-user and figuring out the best places to store crutches while their user sits at a desk.
"The whole program is structured in a way that encourages students to come up with solutions or ideas on their own, rather than simply feeding answers to them," says Derry. "For example, we ask them how to communicate if you are deaf or how to get around if you can't see, rather than simply telling them the standard answers. Often, kids will come up with unique solutions that many adults may not have considered. For instance, one child, having recently learned about bats, suggested echolocation as a means for blind people to get around."
Derry has received personal thank-you letters from some of the first and second-graders. One example:
Dear Mr. Joe,
I like you because you teach people. And you teached us sign laungwag. You are imopartent to us because if I get pearalesed I well do what you teached me.
And another letter:
Dear Mr. Derry,
I learned that you can play sports with a wheelchair. And about crutches too. I hope you come again.
On written evaluations, 100 percent of host teachers have affirmed that they'd recommend Attitudes to their colleagues. The program is offered free of charge, and donations help fund materials, equipment and travel expenses.
"The main message of the program - people with disabilities are the same as others; sometimes they just do things differently - and the hands-on activities help demystify disabilities for students," says Derry. "This, I believe, is the crux of the program. However, I think acceptance is more effectively promoted through exposure. In teaching at many different schools, I've noticed that students in schools that practice inclusion tend to be more accepting and have a better understanding of disabilities. I think that full inclusion is the best way to promote understanding and acceptance."
To bring the program to your school, contact the Kenny Foundation—a statewide nonprofit organization supported by United Way and dedicated to providing educational programs, advocacy, equipment and information/referral services for people with mobility impairments—at 1-800-237-3422 or (248) 552-0202.
The address is:
21700 Northwestern Highway,
Suite 730, Southfield, MI, 48075.
The Web site is:
http://comnet.org/kenny.