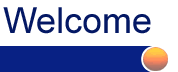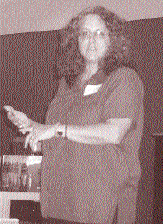 Faith Gross, Legal Center for Persons with Disabilities,
answers a question at the DRS/SILC advocacy training
A Well Kept Secret: The Disability Community in Larimer County
by Homer Page
The strength of the Larimer County disability community is one of Colorado's best-kept secrets. As part of the Statewide Independent Living Councils (SILC) efforts to work with Colorado's disability community, its July meeting was held in Larimer County. On July 24, SILC and the Disability Resource Services Center conducted a day-long advocacy training workshop, and the SILC meeting was held the following day. Over 70 members of the Larimer County disability community turned out to share their knowledge and tell their stories of actions taken to improve the lives of persons with disabilities.

Larimer County is a rapidly growing area. Its communities include Estes Park, Loveland and Fort Collins. Its rural and small town past is being replaced by a high tech present and future. This change is also changing the needs and expectations of the County's disability community. Few are more in touch with the thriving Larimer County disability community than is Nancy Jackson, Executive Director of Disability Resource Services (DRS).

Ms. Jackson has directed DRS since 1982. She came to Ft. Collins in the early 1980's from southern California. Very soon after arriving in Colorado she was appointed to the Ft. Collins Commission on Disability. Shortly thereafter, she became the director of DRS. She has steered the growth of the agency from one with a single employee, operating out of a one room office, to one with 13 employees and a county-wide reach. DRS serves over 300 persons per year and is widely known and respected throughout Larimer County.

Nancy grew up near the Rose Bowl in southern California. Both her mother and father were persons with disabilities. Her mother had a visual impairment and her father a severe back injury. She babysat for a family with two severely disabled children and her grandfather developed macular degeneration. "Having persons with disabilities in my life was a very natural thing, she says. "When I got to college, I volunteered to help a woman with many of her activities of daily living. I suppose I was involved in the independent living movement before I knew there was such a thing."

After college, Nancy went to work for the Los Angeles County Department of Social Services. She was a caseworker in the AFDC program. Her work caused her to visit in the homes in East Los Angeles, where gang activities were pervasive. She continues to have an interest in families that need support. Her agency currently contracts with the Larimer County Department of Social Services to provide advocacy for families seeking assistance through the TANF program.

After two years, she left the Department of Social Services and joined the California Department of Rehabilitation. Her first assignment was with youth. She worked in the schools, assisting children with disabilities to transition to employment. While with Vocational Rehabilitation she also worked with a general caseload that included a large number of persons with mental health disabilities.

While working in California she met and learned from Ed Roberts, one of the founders of the Independent Living Movement. By the time Nancy arrived in Colorado, she was prepared to take a leading role in the creation of a superior independent living program, and that is what she did.

Ms. Jackson laughs and says, "We are a AAA agency. Our mission is advocacy, awareness, and accessibility." DRS has a number of unique programs. The agency has a fund for emergency assistance and an equipment loan closet. DRS staff coordinates a volunteer service that provides many homemaker services and they offer services to older individuals who are blind.

Ms. Jackson says that DRS assists over 100 persons each year with small financial emergency grants. These grants are used for prescriptions, or to buy needed equipment, or to make a rent payment. DRS saves some money from its basic funding for this purpose. In addition, a local church takes a weekly collection and a part of the federal independent living funding also is used to meet emergency housing needs. In total, DRS provides about $14,000 to low-income persons with disabilities each year. Nancy says, "About 90% of our consumers are low income. Sometimes they need a little financial help to get over a rough spot."
The equipment closet has grown into a major program. DRS controls over 600 pieces of equipment. Over 1,000 persons per year borrow equipment from DRS. Ms. Jackson says that DRS started the equipment loan program with two pieces of equipment. The first breakthrough came when the local mortuaries learned that the agency would accept unwanted equipment. They had collected equipment from the families of persons who had passed away, but they had no place to store it or no use for it. The local hospital has also contributed unneeded equipment. DRS charges a small fee that is used to pay for cleaning and repairing the equipment.

DRS staff facilitates an active group of older blind persons and work with a chapter of Colorado Hear. They collaborate with the Loveland Housing Authority to eliminate architectural barriers and administer 16 low-income housing vouchers. They assist persons with disabilities to find employment, work with youth in the schools, and are also involved in several community partnerships.

On Wednesday July 26, the DRS and the SILC sponsored an advocacy training workshop for the Larimer County disability community. Over 70 persons participated in the day long event. County Commissioners Tom Bender and Glen Gibson, along with Loveland Mayor Kathy Gilliland spoke at lunch. They stated their commitment to work with the disability community and provided valuable insight into effective ways to communicate with elected officials.

Mark Beck, chairperson of the Fort Collins Commission on Disability, related his experience as an advocate for accessibility and Don Metzgar, chairperson of the Loveland Handicapped Awareness Committee, shared his committee's experiences advocating for accessible parking and recreational facilities. Sue Williams, representing the Northern Colorado Chapter of the Colorado Cross Disabilities Coalition, told elected officials of the need for accessible transportation in Larimer County.

Faith Gross, a staff person for the Legal Center for Persons with Disabilities, spoke about the Americans with Disabilities Act and answered a flood of questions. She also gave information about the structure of the Protection and Advocacy programs in Colorado. She invited anyone with civil rights or service denial issues to contact her at the Legal Center.

Nancy Jackson says that she is very proud of the commitment to advocacy that exists in her community. DRS staff is an active part of this effort. Jennifer Bell is active with the Housing Coalition and Allison Dawson works with the Adult Protection Program. The strong interest and lively participation of the disability community in the advocacy workshop points to the growing power of persons with disabilities to shape their own lives in Larimer County.

We applaud the work of Nancy Jackson, DRS staff, and the entire Larimer County disability community. They demonstrate that it doesn't take a lot of money to make a difference. It takes commitment to living independently, and ability to work together, creativity, and a big heart. They have these resources in abundance.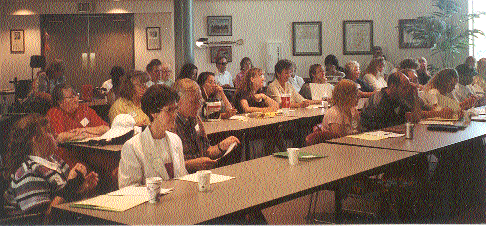 Participants at Advocacy Training Workshop